Wakenya wamshambulia Rais Kenyatta mitandaoni, wadai ame-copy & paste muonekano wa sare za jeshi la polisi la China
Rais wa Kenya, Uhuru Kenyatta amejikuta katika wakati mgumu nchini humo baada ya raia wa Taifa hilo kumuandama mitandaoni wakidai kuwa sare mpya za jeshi la polisi alizozitangaza mapema leo, ni mbaya na zinafanana na za jeshi la polisi la China.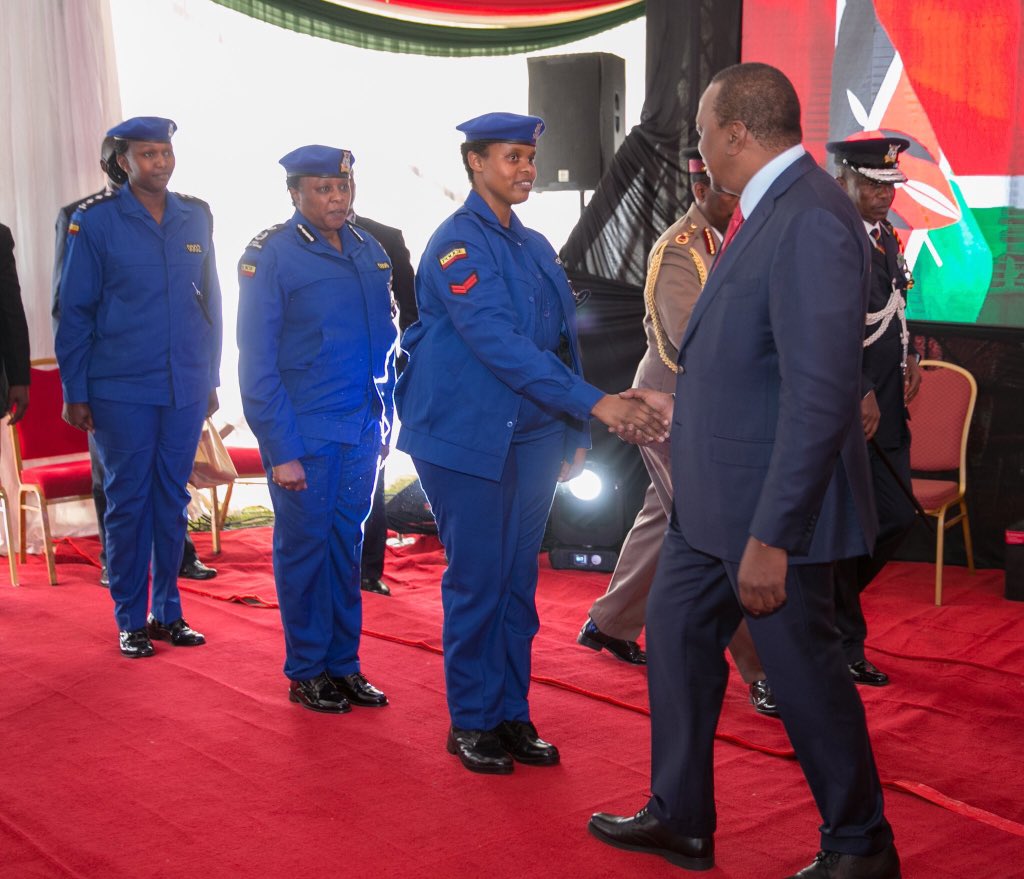 Baadhi ya maoni ya wadau hao, wameeleza kuwa  sare hizo ni kama za China na huenda kuna hela imepigwa kwenye mradi wa ushonaji wa sare hizo.
Leo Septemba 13, 2018,  Rais Kenyatta ametangaza mabadiliko ya nafasi mbali mbali za Jeshi la Polisi nchini humo, ikiwemo na mabadiliko ya sare za Jeshi.
Pitia baadhi ya mijadala na maoni yaliyotolewa na baadhi ya Wakenya kwenye mitandao ya kijamii nchini humo.
Are we turning into a Chinese colony ? * asking for Dedan Kimathi * #PoliceReforms pic.twitter.com/7yvFaXnRSO

— Leon Lidigu (@LeonLidigu) September 13, 2018
Compare and contrast the design and colour in New Police uniform and those for Rwandese . Ni wapi tulikosea?? #NSCKE2018 #PoliceReforms pic.twitter.com/RqcksDIHBo

— Marcello Omuttaha (@MOmuttaha) September 13, 2018
The Uniforms for our newly unified Kenya Police is Ugly, Dull , Old fashioned & Uninspiring … The Beret is worse … They look like Salvation Army Band … Police Uniform must be one that shows fitness & inspires fear … Here, we were conned … #PoliceReforms pic.twitter.com/F7abNCZUmB

— Donald B Kipkorir (@DonaldBKipkorir) September 13, 2018
At this point I think G4S has better looking uniforms than their colleagues here.

Whoever designed this this need to charged with high voltage treason. How could he make our officers look like struggling security firm. We wanted #PoliceReforms not #Policeuniform SO UNINSPIRING! pic.twitter.com/qaHEQhRkn0

— Kenya West© (@KinyanBoy) September 13, 2018
Retweet this if you HATE the new police uniform for Kenya Police #PoliceReforms pic.twitter.com/JFhcvxhWzS

— Fidel Jesus™ (@FidelFidel6) September 13, 2018
Have been following this #PoliceReforms things and I have concluded that Kenya Police uniform review is a looming scandal. pic.twitter.com/5s6wSI3S4S

— Gabriel Munyoki (@Gmmunyoki) September 13, 2018
After importing scrap metal in the name of SGR; now we chose to import used police uniform in the name of reforms!? or maybe we lacked a tender to offer the "master" forcing us to buy police unifom from them?! or is our police service collateral for another loan! #PoliceReforms pic.twitter.com/imoCgdkYYw

— Otieno O'Mokaya (@itsotienomokaya) September 13, 2018
It's in Africa where we ask for police reforms but the president thinks we asked for police uniforms ati for clear visibility si heri angewapa reflectors!!We need to know who got the supply tender. G4S be looking better than these afro cinema uniforms. Nkt! #PoliceReforms pic.twitter.com/yGlxSgI2wH

— KILIMANI MUMS $ DADS (@KiliMumsAndDads) September 13, 2018
Tayari Hashtag ya #PoliceReforms imeendelea kupata Tweets za kutosha wengi wakubeza hatua ya mabadiliko ya sare wakitaka mabadi;liko yafanyike kwenye utendaji kazi wa jeshi hilo.