Chama cha hakimiliki Kenya 'MCSK' kimewalipa mirabaha wasanii nchini humo, Khaligraph Jones na wenzake walalamika kunyonywa
Chama cha Hakimiliki nchini Kenya (MCSK) kimewalipa mirabaha ya miezi sita kwa wasanii wa muziki nchini humo na wale wa nje ambao ni wanachama cha chama hicho.
Special Announcement!
A message has been sent to all our members via sms in regards to the distribution of royalties. #mcsk #mcskroyalties #mcskpays #mcskpaysmembers pic.twitter.com/y1k50O0iXH

— MCSK (@TheMCSK) August 9, 2019
Miamala hiyo ambayo wamerushiwa kwa njia ya huduma ya pesa za mtandaoni (M-Pesa) imewaudhi baadhi ya wasanii wa muziki na kudai kuwa fedha hizo ni ndogo ukilinganisha ukubwa wa majina yao.
MCSK wamesema kuwa malipo hayo ni ya miezi miwili na yamegawanywa kwa wasanii wote kwa asilimia 70 ya makusanyo ya mapato yote.
MCSK wakijibu swali la rapper King Kaka aliyeuliza "Kwa hiyo MCSK umeamua kutugawia kila msanii KSH. 2,500 kwa wananchama 15,000. Ambapo kwa jumla mtakuwa mmekusanya KSH Mil 37, Mna uhakika kuwa mmekusanya kiasi hicho tu cha fedha?. Kukula jasho la mtu ni laana na nasikia kama hauna License wanakushika.".
"Kwanza tunaomba ufahamu, Haya malipo ni ya asilimia 70 ya wasanii wote wa ndani na wa nje na kama unavyojua muziki wa Kenya haupigwi sana hapa Kenya," wameeleza MCSK .
Wasanii wengine waliotoa maoni yao ni kama ifuatavyo;
"MCSK Siku Moja Tutakuja Kuwavuruga uko Mbaya Sana, Msijaribu kunitumia izi peanuts tena, Infact I have given Authorization for my Music to be pirated, Don't collect money on my Behalf anymore, Nisiskie mmeshika mtu akicheza Wimbo zangu kwa street, msinitumie izo peanuts zenu tena, The OG shall be respected #mrinternational"- Khaligraph Jones .
"So MCSK sends everyone Kshs 2500 * 15k members that's 37M are you sure that's all you collected. Kukula jasho ya Mtu ni laana na naskia kama hauna license wanakushika right there and then, Wacheni ufala." – King Kaka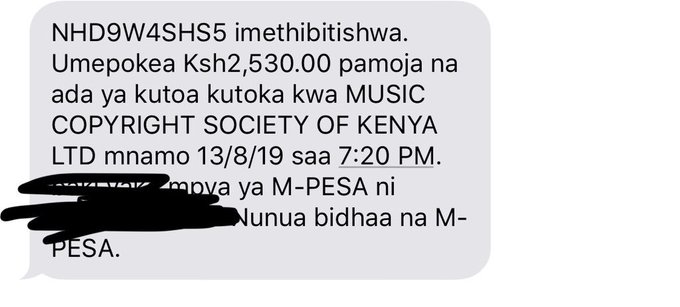 "We hve grown ass men/women who sit at the MCSK office denying the artistes their rightful pays.I received this text & didn't pay much attention to it.MCSK are jokers who'r slowly killing the industry. Zero interest in supporting the artistes.Selling nunu wld gve better pay check." – Suzana Owiyo .
"I actually thought this MPESA text was a notification for money I'd sent…. only to realize today it's actually royalties from MCSK when @viviankenya asked me what I'm gonna do with my 2530, All I can say is F%*% MCSK!! People still drawing salaries from a broken system!" – Antoneo Soul.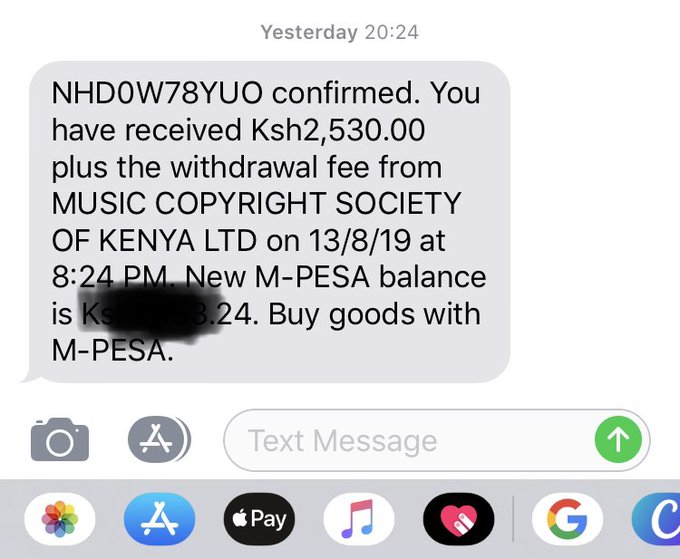 "I also received that 2530kshs from @the_mcsk nikahuzunika sababu niliona shetani ananijaribu sana. Lakini the light is always stronger than the darkness and too many of us work hard every day to be controlled by a few selfish individuals who have no respect for persistence and hard work. Hii post ilifaa ijae hasira coz to be honest 2530kshs cannot even buy enough bundles to upload new music on @youtube," – Vivian .