Mwafrika aliyefaulu kwenda mwezini afariki kabla ya safari
Raia wa Afrika Kusini aliyeshinda nafasi ya kuwa mwafrika wa kwanza kufika mwezini amefariki kwa ajali ya pikipiki kabla ya ndoto yake kuwa kweli.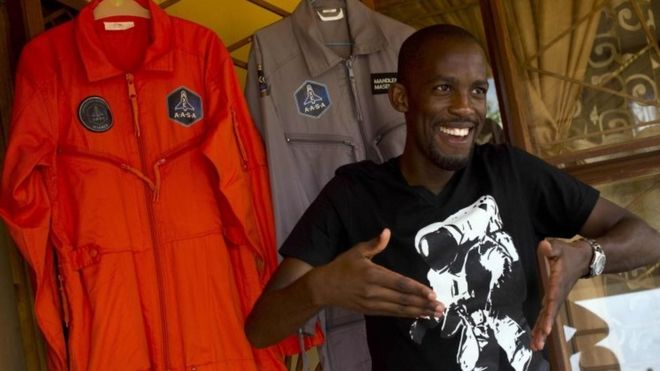 Mandla Maseko, 30, alipoteza maisha siku ya Jumamosi, familia yake imeeleza. Mwaka 2013, Maseko, mwanachama wa kikosi cha anga nchini Afrika kusini aliwapiku wengine milioni moja na kupata nafasi moja kati ya 23 katika chuo cha masuala ya anga nchini Marekani.
Waking up to the news that Mandla "Spaceboy" Maseko, our very astronaut has passed on. @MandlaMaseko1 May your soul fly with the angels, RIP sir!#RIPMandlaMaseko pic.twitter.com/wxBA60occq

— Hlabi 👩🏽‍🎓 (@Hlabi_Davhana) July 7, 2019
Watu wengi wametoa salamu zao za rambirambi kwenye mitandao ya kijamii.
#RIPMandlaMaseko Afronaut extraordinaire. What a tragic loss of a promising SA personality who'd already soared so high and had been on track to reach much higher levels of influence in the world of science and astronomy. Condolences to the Maseko family. Akwehlanga Lungehlanga pic.twitter.com/yujORCJ6FV

— Thokozani Nkosi (@ThokozaniNkosi) July 7, 2019
Alitumia juma moja akiwa katika kituo cha mafunzo cha Kennedy Space mjini Florida akifanya majaribio yakiwa ni maandalizi ya safari fupi ya anga ya muda wa saa moja , ambayo ilipangwa kufanyika mwaka 2015.
Kwa mujibu wa shirika la habari la BBC, Changamoto ilikuwa ni kupiga mbizi angani kuelekea ardhini kutoka umbali wa futi 10,000 na jaribio hilo liliitwa "vomit comet" yaani kwa kutumia chombo cha kinachotumika kufundishia wana anga wanafunzi.
Lakini nafasi ya kwenda mwezini haikutokea. Kampuni iliyokuwa ikiratibu safari hiyo, XCOR Aerospace, ilifilisika mwaka 2017, taarifa zilieleza.
Maseko alirejea kikosini na kufanya kazi kama rubani wa kujitegemea. Kila apatapo muda alikuwa Dj na pia aliendesha baiskeli.
Maseko amesema alitaka kufanya jambo ambalo litawapa msukumo vijana wa kiafrika na kuwathibitishia kuwa wanaweza kufanikiwa kwa chochote bila kujali walipotoka.
Mwanaanga wa Marekani, aliyefariki mwaka 2012 akiwa na miaka 82, ni mtu wa kwanza duniani kutembea kwenye mwezi mwaka 1969