Michezo
Ozil amalizana na Arsenal, mshahara wake ni zaidi ya sh. milioni 960 kwa wiki
By
|
Kiungo wa Arsenal ambaye alizua wasi wasi mkubwa wa kuondoka klabuni hapo mwishoni mwa msimu huu, Mesut Ozil amesaini mkataba mpya wa kuendelea kuchezea timu hiyo kwa miaka mitatu na nusu ijayo.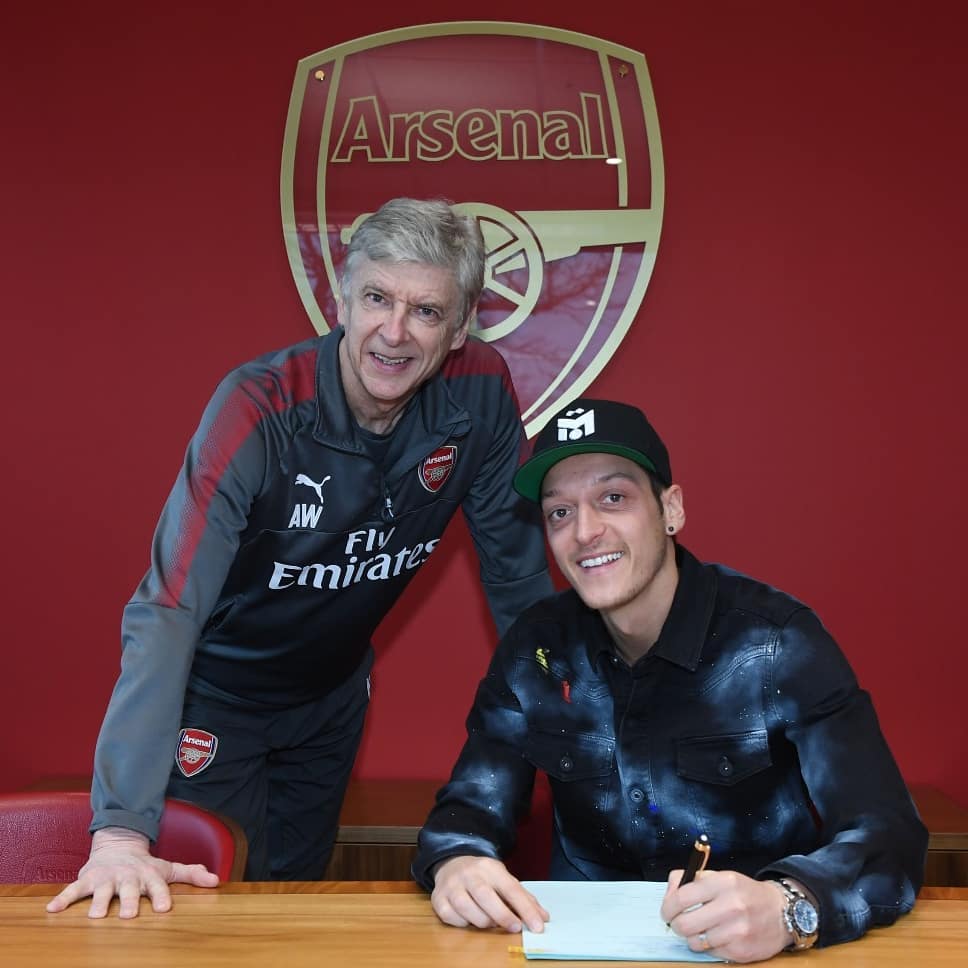 Mesut Ozil akisaini mkataba wake wa kuendelea kubakia Arsenal huku kushoto akiwa amesimamiwa na kocha Arsene Wenger
Ozil ambaye mkataba wake ulikuwa unafikia tamati mwisho wa msimu huu, amesaini mkataba huo ambapo atakuwa analipwa mshahara wa kiasi cha paundi 300,000 kwa wiki ikiwa ni tofauti ya paundi 120,000 kati ya mshahara wake na ule anaulipwa Pierre-Emerick Aubameyang aliyesajiliwa wiki hii katika timu hiyo.
Mesut ameonekana mwenye furaha kubwa baada ya kusaini mkataba huo, kutokana na ujumbe ambao ameuandika katika mitandao yake ya kijamii. "#YaGunnersYa …. ooh yaaa 😎📝 Proud to announce: I signed dat thing 😁 3 more years with @Arsenal! It's been one of the most important decisions of my footballing career and that's why I had to think hard and talk with everyone who's important to me," ameandika Ozil.
"Good things take time! In the end I let my heart decide. As I always said, I feel at home here and I'm highly motivated to achieve big things in the next few years. Once a Gunner, always a Gunner! 💥 #M1Ö #WeAreTheArsenal #London," ameongeza.
Kutokana na hatua hiyo, kwa sasa Ozil atakuwa mchezaji wa pili anayelipwa mshahara mkubwa zaidi katika ligi kuu ya Uingereza akiongozwa na Alexis Sanchez wa Manchester United ambaye analipwa paundi 350,000 kwa wiki.
Jiunge na Bongo5.com sasa
Usipitwe!! Jiunge nasi kupitia
Facebook
,
Twitter
na
Instagram
ili kupata habari zote za town! Usikose kujiunga na
Youtube
kuangalia video zote kali kutoka Bongo5!
Comments