Martin Kadinda anyakua tuzo Nigeria 'Africa's Designer of The Year 2018'
Mbunifu wa Mavazi ya Kiume Martin Kadinda akiwa nchini Nigeria ameshinda tuzo ya 'Africa's Designer of The Year 2018' katika usiku wa week ya maonyesho ya mavazi ya Kiume aliyofanyika Logos Nigeria.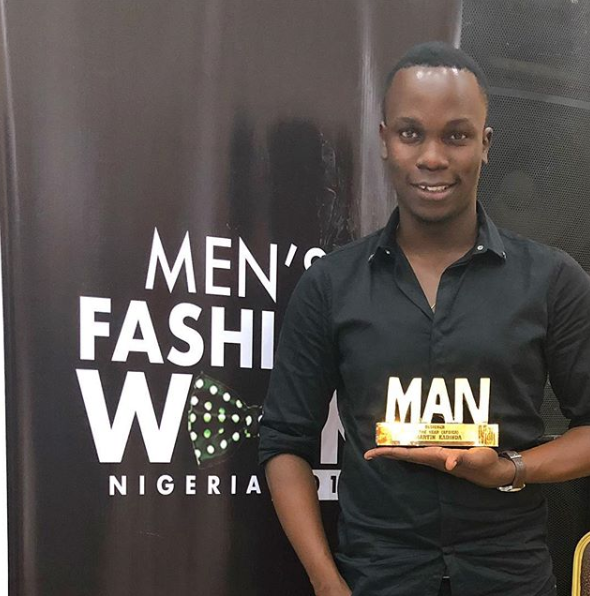 Kadinda ambaye aliondoka nchini Tanzania siku chache zilizopita alisema usiku wa maonyesho hayo atautumia kwaajili ya uzinduzi brand yake mpya ya nguo za kiume aliyoipachika jina la Shababi.
@themanawards Africa's Designer of The Year 2018…
…..!! 🤴🏼Am Humbled. The World Is ReadY👑 .
.
Shukurani Za dhati kwa mwenyezi Mungu kwa Afya, akili na ubunifu….

Shukrani kwa Wizara Ya Habari, michezo na Utamaduni Kupitia Basata.
.
.
Shukurani za Dhati kwa Familia, mama Yangu, dada na kaka zangu.. wadogo zangu na ndugu zangu wote…

@wemasepetu and Ur Amaizing Team wema and die Hard fans🙌🏽🙌🏽🙌🏽..

MK empire with All the Love and Support always🙌🏽

My friends mnajijua.. cant mention all of you.. ila asante sana.

Las Vegas nawasahauje sasa😂🤣😂😂.

Majirani zangu vipenzi sijawasahau..

Nitamaliza wote ? My fans in Belgium, south africa, Holland, china, states and All of the World 🌎 .

The African finest🙌🏽
Mbunifu huyo kwa sasa amekuwa mmoja kati ya wanamitindo vijana ambao wamechukua tuzo nyingi za kimataifa kwa upande wa ubunifu wa mavazi.